The Earth Is Also One of Our Stakeholders : Environmental
Conservation Activities with the Future Generation in Mind
IMEX contributes to the development
of an information society and the creation
of a recycling-oriented society
We must bequeath a beautiful global environment to our children who will lead the next generation without deteriorating it any further. IMEX firmly believes that its principal mission is to contribute to social development through electrophotographic materials, technology, and services. At the same time, the company aims to contribute to the creation of a recycling-oriented society through its reused cartridge business and to become a company whose business activities are in harmony with the global environment. In this regard, we are actively carrying out various environmental conservation activities.
IMEX issues environmental reports
of its environmental conservation
activities.
IMEX contributes to saving an equivalent of approximately 43,763 kiloliters of petroleum by selling reused cartridges and toners for such cartridges.
IMEX is striving to reduce the environmental impact of toner production by encouraging the recycling of waste generated from the toner production process so that it can be used as materials again.
IMEX is helping Japan to achieve its CO2 emission reduction goal by selling cartridges with carbon offsets.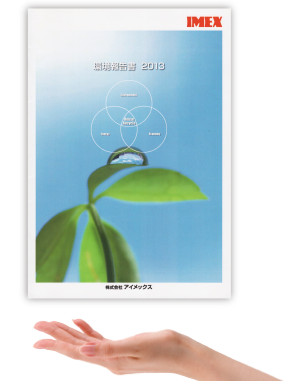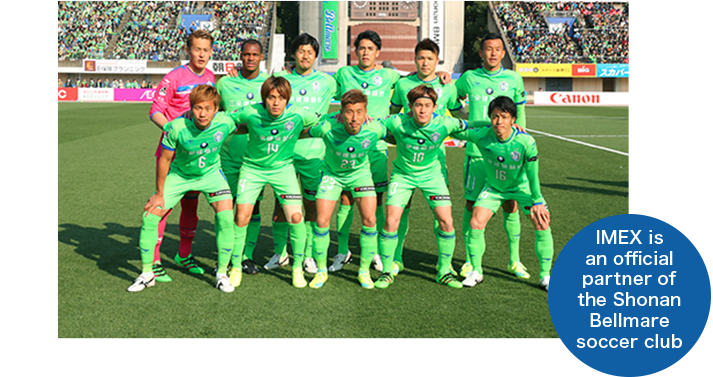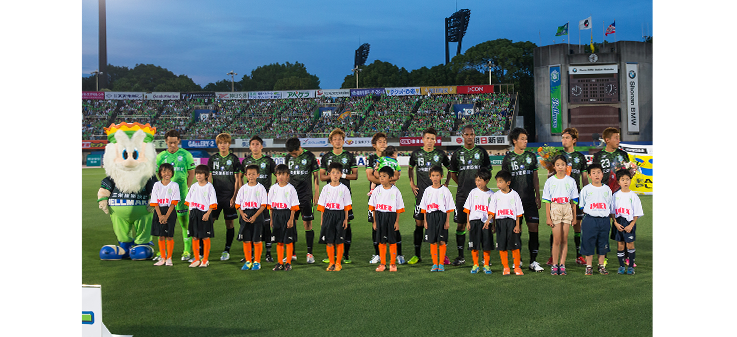 July 2, 2016
We offered escort kids sponsors at "Shonan Bellmare vs Yokohama F Marinos".

Shonan Bellmare
(Official Partnership)
Environmental Conservation Plan
Basic principles

IMEX has made "harmony with the environment" one of our management principles, and is aware that conservation of the global
  environment is of utmost importance. We act with consideration of how our corporate activities, in all fields of business, contribute to conserving and improving the global environment.

Action plan

In strict abidance with environment related laws and regulations, and those factors which we ourselves deem to be important, IMEX has voluntarily created management standards and strives to improve environmental management.

We have constructed an environment management system, to which we continually make improvements, and which prevents environmental pollution. Following are specific plans:

Providing environmentally friendly, high-quality toner to the reuse-recycle industry
Promotion of energy conservation and recycling
Reduction of environmental pollutants and waste

Promotion of recycling and expansion of the remanufacturing business through the provision of
   high-quality remanufactured cartridges.
This environment management system is to be continuously improved through constant feedback of
implementation results and annual review
All employees are made fully aware of this policy, and it is disclosed to the public when requested.
Akira Kitaoka, President of IMEX
History of environmental conservation initiatives at IMEX
2001

Establishment of ISO secretariat

2002

IMEX acquired both ISO9001 and ISO14001 certifications

2003

Began selling non-VOC products

2005

Integration of ISO9001 and ISO14001 systems

2006

IMEX obtained certification for ECO Mark for
its reused cartridges (for 19 products)
Publication of IMEX Environmental Report 2006
Development of technology to reuse remaining toner ("Hybrid Toner")
Began sorting and disposal of end-of-life cartridges

2007

Began selling hybrid toner products in Japan
Publication of IMEX Environmental Report 2007

2008

Began selling reused cartridges with carbon offsets in Japan
Publication of IMEX Environmental Report 2008

2009

Publication of IMEX Environmental Report 2009

2010

Publication of IMEX Environmental Report 2010

2011

Publication of IMEX Environmental Report 2011
IMEX obtained certification for E&Q Mark

2012

Publication of IMEX Environmental Report 2012

2013

Publication of IMEX Environmental Report 2013

2014

Publication of IMEX Environmental Report 2014

2015

Publication of IMEX Environmental Report 2015